As with the previous day, danger lurked around every corner on the penultimate day of the 2019 Rolex New York Yacht Club Invitational Cup, the premier one-design keelboat championship for amateur sailors. Today, however, the risk came not from the gear-busting wind and waves that tested sailors and equipment on Day 3, but from the capricious breeze which jumped around like a cat on a hot tin roof and varied in velocity from the high single digits to the high teens. Passing lanes abounded, no one was ever truly out of a race and no lead was safe until crossing the finish line.
"It was very tricky because of where the top marks were in relation to [Gould Island]," said Tom King, tactician for the Royal Sydney Yacht Squadron, which won the day again and now sits just one point behind overall leader San Diego Yacht Club. "You had current going down both sides of the island and wind going down both sides of the island and it was really shifty in the middle. We enjoyed it, got ourselves out of trouble on a few shifts after some fairly average starts. We were pretty lucky and pretty happy with where we ended up."
LIVE REGATTA COVERAGE OF THE FINAL RACES STARTS
AT 11 AM EDT ON FACEBOOK & YOUTUBE
CLICK HERE FOR FULL RESULTS

The Rolex New York Yacht Club Invitational Cup is a biennial regatta hosted by the New York Yacht Club Harbour Court in Newport, R.I. Since the event was first run in 2009, it has attracted top amateur sailors from 43 of the world's most prestigious yacht clubs from 21 countries. After five editions in the Swan 42 class, the 2019 event will be sailed in the IC37 by Melges, designed by Mark Mills and built by Westerly Marine in Santa Ana, Calif., and FIBRE Mechanics in the United Kingdom. The strict one-design nature of this new, purpose-built class combined with the fact that all 20 boats are owned and maintained by the New York Yacht Club, will ensure a level playing field never before seen in amateur big-boat sailing. The regatta will run through September 14. A broadcast on Facebook Live and YouTube will allow fellow club members, friends, family and sailing fans from around the world follow the action as it happens. Twenty teams from 14 countries and five continents will compete in the 2019 Rolex New York Yacht Club Invitational Cup.
After Day 3's brutish easterly, which was accompanied by strong rain and a steep, malicious chop, today's conditions were a welcome respite for a weary fleet of Corinthian sailors. The moisture cleared out overnight leaving behind some cotton-ball clouds, cool temperatures and a moderate northeasterly breeze. The race committee also moved the fleet back inside Narragansett Bay where the waves were rarely more than a foot or two high.
The change in venue and breeze mixed up the results a bit more than in previous days. The Yacht Club Costa Smeralda (sail No. 17) team started off the day on a sour note finishing 17th in the first race. But rebounded nicely with a second and fourth, which leaves them in eighth overall and in the hunt for fifth.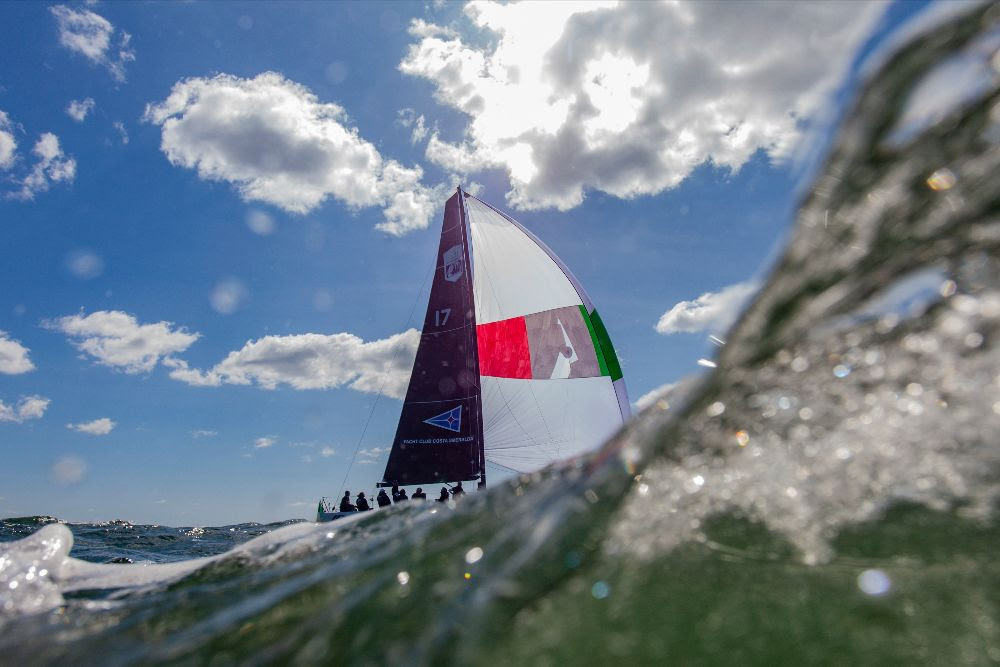 Skipper Antonio Sodo Migliori was unequivocal about the difference between the first race and the latter two.
"The start, absolutely the start," he said. "The first race we tried to start at the pin, had a plan, but were closed out by another boat and had a disastrous start. We tried to recover, but it was very hard to come back. It was a fantastic day, it's very fun to have a tricky course where you can lose but you can recover a lot. Sometimes people who were 15th came second or third, because there was a good chance to recover."
The YCCS team wasn't the only one that fought hard to get the best start at the favored end of the line and then pushed hard into one corner or another on the first beat, looking for a home-run shift. But judging by the final results, the more conservative approach favored by the Royal Sydney team was the long-term winner.
"[For the] the starts, we were just trying to get clear where we had options to be playing the shifts," said King, who won a gold medal in the Men's 470 class in the 2000 Olympics. "As much as anything, it was trying to link the pressure and the shifts together up the beat. We were sailing the breeze, not the fleet so much, and that mostly put us in the middle. Most of the [upwind legs] you didn't end up with one side favored, it was favored to be in the middle just picking away at it."
King said that after winning his gold medal nearly two decades ago, he took a break from the sport. While he's dabbled in keelboat one-design sailing in the years since, he hasn't done a lot of it recently.
"I haven't been in the back of a boat for a number of years now," said King. "It's been a great event to do, the boats are awesome, and it's really nice to race in a proper one-design fleet. The other guys on the team who came [in 2017] really twisted my arm. They told me about the lawn and the lobsters and the parties and that the sailing was pretty good too. It's got to be up there with the best regattas I've ever done."
No one needs to tell Barry Sampson that. The Itchenor Sailing Club skipper is competing in the Rolex New York Yacht Club Invitational Cup for the fourth time. For the previous three he brought his Swan 42 Long Echo over from Europe. With the event having moved on to the IC37 by Melges, he's now the owner of one of those boats as well, which he's calling Short Echo. After a trying day offshore, Sampson and his crew put together their three best results of the regatta and were the big mover of the day, jumping from 15th to 12th.
"Today was lovely sailing," said Sampson (left, with his team). "I sail far better in flat water than out in the gnarly stuff [on Rhode Island Sound]. We'd sorted our boatspeed and my starts were getting better. We were up on the line at the gun and held our lane out of the starts. We made more good decisions upwind than we did downwind, which was a bit of a shame. But all in all, a very satisfying day."
Sitting in 12th place with an even 100 points, the Itchenor team will go into tomorrow playing defense as 11th place is 22 points ahead, but the Royal New Zealand Yacht Squadron is just one point behind.
Racing for the 2019 Rolex New York Yacht Club Invitational Cup will continue through Saturday, September 14, with a live broadcast of each race via Facebook and YouTube. Racing is scheduled to start at 11 am each day.
---
2019 Rolex New York Yacht Club Invitational Cup
New York Yacht Club Harbour Court
Newport, R.I.
Full Results
1. San Diego (Calif.) Yacht Club, 2, 1, 3, 1, 2, 16, 8, 4, 1; 38 points; 2. Royal Sydney Yacht Squadron (AUS), 11, 9, 1, 3, 3, 2, 7, 1, 2; 39 points; 3. Royal Canadian Yacht Club, 7, 3, 12, 5, 1, 5, 2, 11, 9; 55 points;. 4. Royal Cork Yacht Club (IRL), 6, 6, 14, 2, 5, 1, 5, 18, 5; 62 points; 5. Japan Sailing Federation, 1, 4, 9, 11, 6, 9, 13, 5, 10; 68 points; 6. Royal Thames Yacht Club (GBR), 5, 5, 6, 19, RDG/8, 7, 3, 13, 6; 72 points; 7. Southern Yacht Club (New Orleans, La.), 14, 19, 2, 4, 4, 8, 10, 9, 3; 73 points; 8. Yacht Club Costa Smeralda (ITA), 3, 7, 13, 9, 17, 3, 17, 2, 4; 75 points; 9. Yacht Club Italiano, 4, 12, 5, 8, 11, 13, 6, 3, 15; 77 points; 10. New York Yacht Club, 8, 14, 7, 7, 8, 14, 1, 8, 11; 78 points; 11. Royal Swedish Yacht Club, 9, 2, 8, 18, 13, 4, 9, 7, 8; 78 points; 12. Itchenor Sailing Club (GBR), 16, 13, 10, 10, 15, 15, 4, 10, 7; 100 points; 13. Royal New Zealand Yacht Squadron, 12, 11, 11, 17, 10, 6, 12, 6, 16; 101 points; 14. Yacht Club Argentino, 13, 15, 4, 16, 8, DSQ/21, 11, 12, 19; 119 points; 15. Royal Hong Kong Yacht Club, 19, 8, 15, 6, 9, DSQ/21, 11, 12, 19; 128 points; 16. Norddeutscher Regatta Verein (GER), 10, 18, 18, 15, 14, 10, 16, 14, 13; 128 points; 17. Real Club Náutico de Barcelona (ESP), 15, 10, 17, 13, 18, 12, 14, 16, 17; 132 points; 18. Royal Freshwater Bay Yacht Club (AUS), 18, 17, 16, 14, 16, 11, 19, 15, 12; 138 points; 19. Royal Yacht Squadron (GBR), 17, 16, 19, 12, 19, 17, 18, 20, 14; 152 points; 20. Yacht Club de France, 20, 20, 20, 20, RET/21, 18, 20, 19, 20; 178 points.
Photo credits: ROLEX/Daniel Forster (2), Stuart Streuli
Read more from What's Up Newp